Dünya Göz Hastanesi Istanbul, Turkey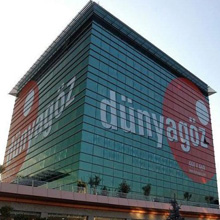 Dünya Göz which started to provide service in 1996 brings exact solution to all kinds of problems related to eye health for 365 days, 24 hours. Dünya Göz Hastanesi which have started a new era in Turkey provides health services in total 17 centers in the country and abroad. It has taken its place among a number of centers in the world with its continually renewed technology, experienced medical staff with 150 people consisting of Professor, Associate Professor and Staff physicians, 1500 personnel and contemporary management savvy.

As it is in all sectors in medicine also, the quality of service provided is enhanced by technological advances and scientific studies.

The Technologies used in Dünya Göz Hastanesi are renewed in paralel to the developments in the world. Scientific research conducted by its physicians in the field of ophthalmology becomes the resource for companies which produce medical technology and for the eye doctors. Also the international seminars and conferences held within Dünya Göz brings together the prominent people in the field of ophthalmology with Turkish eye doctors and provides the opportunity for mutual information exchange.

Dünya Göz Hastanesi, is the first Turkish eye hospital which has been audited and qualified to obtain JCI (Joint Commission International) Accreditation Certificate in July 2006. JCI, is the world's most important American Accreditation system which determines the standards of the institutions which provide health services and issues quality certificate. To be deemed worthy for this certificate it is required to have satisfied a lot of criteria.

Its ISO 9001 Quality Management System Standards, operations which comply with customer and legal regulations, is an indicator of its ability to continually satisfy.

As Dünya Göz Hospitals Group, it provides eye health services to an average of 30.000 foreign patients annually in the field of health tourism.