Memorial Şişli Hastanesi Istanbul, Turkey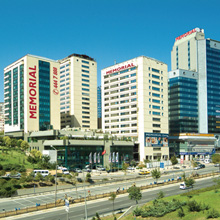 Memorial Health Group, has been founded with the mission of being a world brand in health, with its prominent staff and satisfaction focused service savvy of international quality standards, by making a difference with leading applications in the sector and has accepted its first patient in February 2000.

Memorial, which has introduced Turkey to quality health service of world standards, is the first hospital in Turkey and 21 st. in the world, which has obtained JCI Accreditation Quality Certificate (Joint Commission International).

Memorial is the address of confidence in health with its expert doctors, health personnel who combine their knowledge and experience with close attention, patient focused service savvy, quality policy, diagnosis-treatment units equipped with advanced medical technology, modern facilities and comfortable patient rooms.

Memorial which has international reputation with its deparments such as In Vitro Fertilization, Genetics, Cardiovascular Surgery and Organ Transplant, is a reference center in branches such as Surgical Sciences, Cardiovascular Health, Women's Health, Children's Health and Robotic Surgery.

Memorial which has pioneered to the rise of health services standards by leading the way in Turkey, has been successfully representing our country abroad with its international diagnosis-treatment methods.

Memorial which accepts patients from 65 countries in the world, is a world hospital which gives more and more people every year the comfort of being treated in a safe environment.